Sep 16, 2020


Feature overview & View search

Hi QuivvyTools users,


Hope you are all well! Today, we're back with some exciting updates.

Feature overview



During summer, we've created this feature overview, a collection of small tutorials that show you how QuivvyTools 360° works and what it can do for you.

You will find 6 features, each containing a short video and descriptions illustrated with animated gifs. You can find documentation for the following features:
Visualize your Podio setup
This tutorial shows you the ways in which QuivvyTools Architecture 360° visualizes your infrastructure, allowing you to inspect the health of your structure the way that suits your needs best.


Diagram view
One of these visualizations is the diagram view, which shows you all related Podio workspaces, apps, fields and Globiflows at a glance.
Inspect dependencies
Want to delete a field? Check dependencies first. This tutorial shows you how you can inspect whether and where the field you want to delete is connected.
Error debugging
QuivvyTools Architecture 360° highlights any errors in your structure, and will tell you exactly which apps, fields & GlobiFlow bricks are affected, so you know where & how to fix bugs.
Advanced search & filtering
QuivvyTools Architecture 360° expands Podio's search functionality by allowing you to search Podio metadata, calculation field content and GlobiFlow content. What's more: you can now also search for views referenced anywhere within GlobiFlow (more about this in the second part of this blog).


Chrome extension
Shows you how our Chrome extension integrates all Architecture 360° functionality within the Podio and Globiflow UI.
We hope you'll find this useful. If there's any documentation you'd like to see added, please let us know!

Find Views referenced in GlobiFlow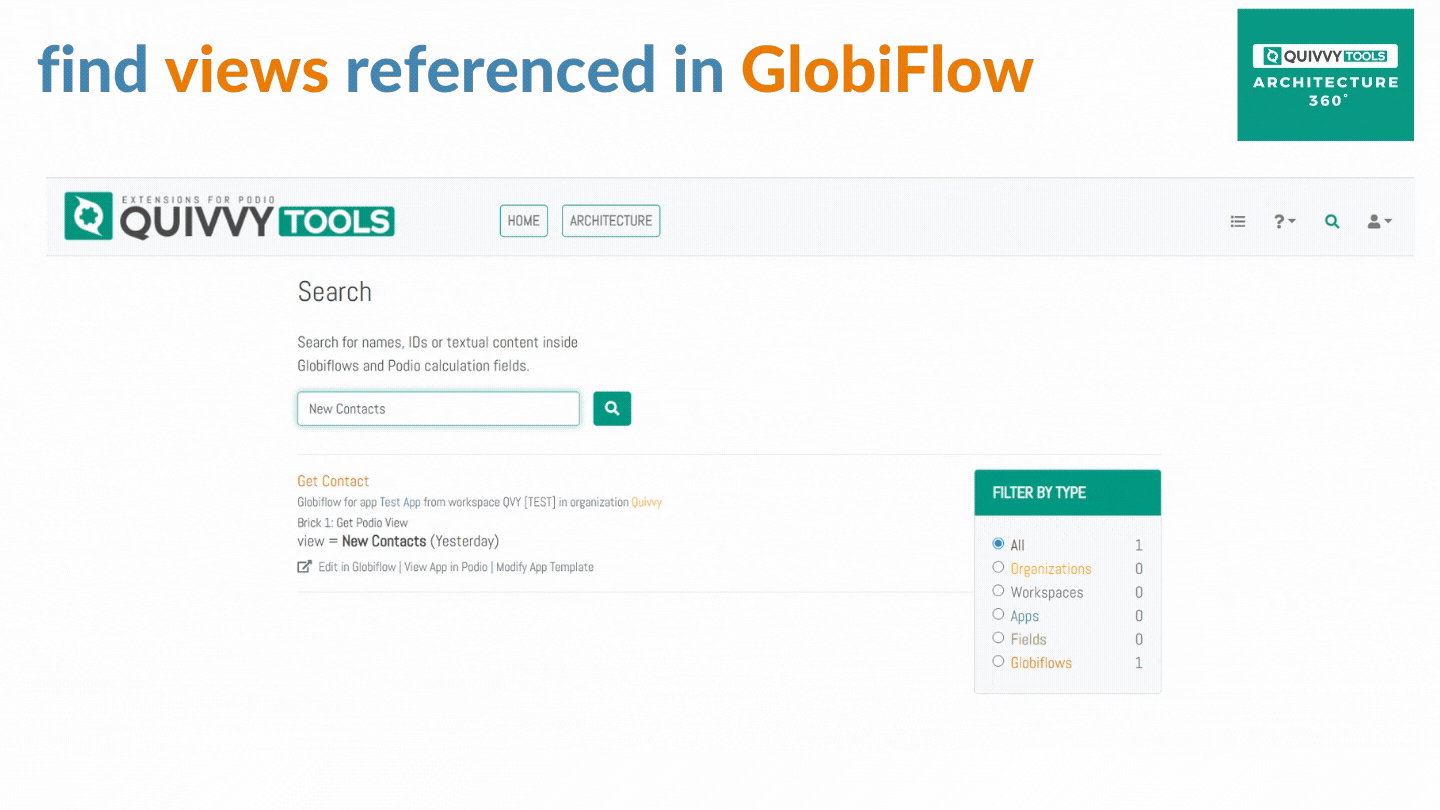 We've just expanded our search functionality even further. If you search for the name of a view that has been referenced anywhere within GlobiFlow, it will now appear in the Search Results. You can then choose to edit the flow, or visit the app this view was created in.

In due time we will integrate View dependencies into the QuivvyTools web version (Cards), but for now, you can already use the search function to avoid deleting a View that's still in use by some automation.
As always, we highly value your feedback. We'll be happy to hear your thoughts.
Enjoy!
The Team @ QuivvyTools
Visit us at Quivvytools.com, Facebook & LinkedIN


Permalink: https://quivvytools.com/blog/feature-overview-view-search/1475749231
---