Feb 24, 2020


Diagram visualization

Hi QuivvyTools users,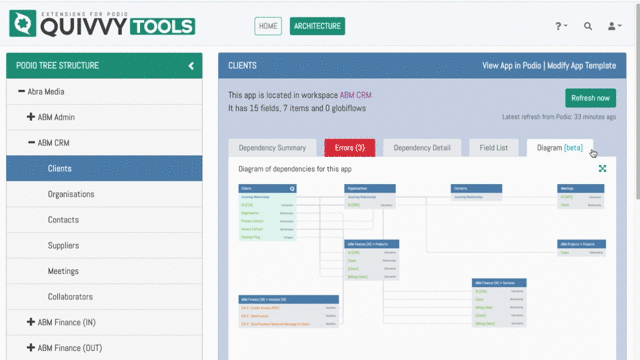 You may have noticed a new tab at the app level of our tool. This exciting new feature now allows you to view all your Podio app-level dependencies in diagram form!

The diagram functionality gives you a hyper-intuitive outline of all your Podio & Globiflow dependencies.


you can zoom or view the diagram fullscreen

you can drag & drop tables (or use auto-arrange) to further personalize the diagram display

you can hover over fields, relationships and flows to highlight their dependencies

you can click on a related Podio app name to navigate to the diagram of this related app
This feature is still in beta, so please share your thoughts with us! We highly value any feedback we get from you. Massive thanks already to Isrial Pritchard for the prior input.
Enjoy!
The Team @ QuivvyTools
Permalink: https://quivvytools.com/blog/diagram-visualization/1351076820
---